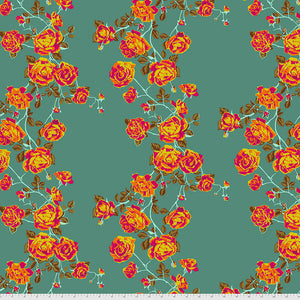 Sugar Bowl Crafts
Social Climber (Teal) by Anna Maria Horner
Regular price
$5.00
$0.00
Unit price
per
Designer Anna Maria Horner
Manufacturer Freespirit Fabrics
100% Cotton
suitable for quilting, dressmaking and crafting
width of bolt is 110cm
Here's what Anna Maria Horner has to day about the collection.
"A love letter from me to you, Love Always, AM, is a signature collection that focuses on some of the juiciest florals and designs that I have ever created! I did not hold back on the bold or the colorful, and I recolored here and there to offer a deep and rich palette. I've joined giant blooms with small hand drawn details and I've balanced undulating natural florals with calm, rhythmic designs for a steady flow of beauty. I hope you cherish this special dip into my design library, and I can't wait to see where the inspiration takes you!"
Please note how we sell our fabrics.
IF you order '1' then you will be buying a fat quarter. 
When you buy '2' then you will be purchasing a half metre (50cm x 110cm).
When you purchase '3' you would be purchasing 75cm x 110cm.
When you purchase '4' you would be purchasing 1 metre etc.  
We are happy to sell long quarters, please contact us to arrange.
Full bolts can be custom ordered from this collection - message direct for prices.
---