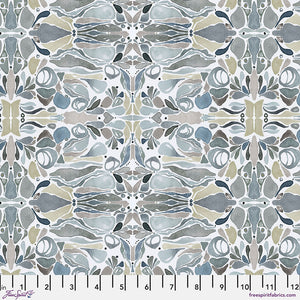 Sugar Bowl Crafts
Sanibel (Ocean) by Shell Rummel
Regular price
$6.00
$0.00
Unit price
per
Designer Shell Rummel
Sea Sisters Collection
Manufacturer Freespirit Fabrics
100% Cotton
suitable for quilting, dressmaking and crafting
width of bolt is 110cm
Please note how we sell our fabrics.
IF you order '1' then you will be buying a fat quarter. 
When you buy '2' then you will be purchasing a half metre (50cm x 110cm).
When you purchase '3' you would be purchasing 75cm x 110cm.
When you purchase '4' you would be purchasing 1 metre etc.  
We are happy to sell long quarters, please contact us to arrange.
"The ocean - with its changing colors, fluid movement and shoreline surprises - is my constant Muse. This collection honors the many women in my life who love and value the depth of beauty in the coastline as much as I do. We are connected through small moments, conversations and shared admiration. I am often in awe of their talents, especially when my fabrics become part of something more. I hope these organic, modern coastal patterns of waves, tidelines and ocean elements that all originate from my watercolor paintings, speak to my Sea Sisters near and far and inspire and spark their own boundless creativity."
Designer Shell Rummel has been a successful and established presence in the fine art, wedding and stationery markets for nearly 20 years. Passionate about designing beautiful products that honor her distinctive design aesthetic, Shell's focus is on building brand presence within home decor markets which includes working with world class licensing partners in bedding, bath textiles, rugs, tabletop, accessories and fabric by the yard.
The hallmarks of the brand are tranquil, sophisticated and gracefully fluid art and design, unified by her signature painterly style. Watercolors are the preferred medium for this award-winning artist, and the unpredictability of painting with water often results in surprising variations and subtle imperfections, which make Shell's patterns so beautifully unique. There is an inherently organic, natural quality as well as a softly refined feel to Shell's designs. Her livable collections are both comfortable and contemporary at the same time.
Shell's work is a direct reflection of what catches her eye and she strives to honor the lines, layers, textures and colors of all that inspires her. Says Shell, "My artistic creation involves engaging all the sense and my fine art and design are the purest essence of me. I strive for the artist's hand to be felt in all I create."
---