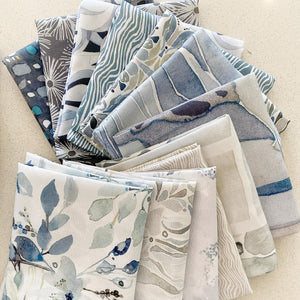 Sea Sisters is the dreamy new collection from Shell Rummel. Twelve new patterns created from Shell's beautiful watercolours. You can see how the paint drifted through the water creating little pools of colour. Here's what Shell has to say about the collection," The ocean - with its changing colors, fluid movement and shoreline surprises - is my constant Muse. This collection honors the many women in my life who love and value the depth of beauty in the coastline as much as I do. We are connected through small moments, conversations and shared admiration. I am often in awe of their talents, especially when...
---
• Anna Maria horner • aurifil • brave • bundles • perfect partners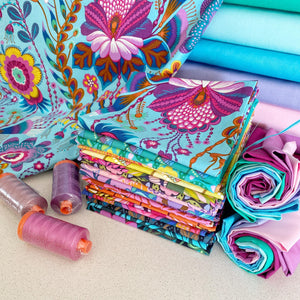 The stunning new collection by Anna Maria Horner has now arrived! I was so excited to see this collection. I new the the glorious Sunseakers print was going to blow me away and it really has. The colours really pop and the florals demand attention. Here's what Anna has to say about Brave, "I have long relied on my photos, sketches, doodles, and plans to begin any new collection of fabric and find the hunt and gather process to be comforting. However, when I approach other creative endeavors, such as a wall mural, all I do is gather the paints...
---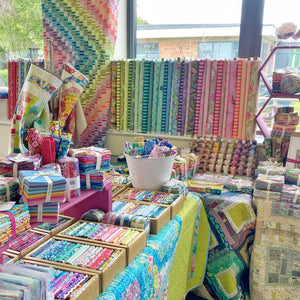 When I saw a chance to have Tula's gorgeous neons, my inner 80s youth was jumping for joy! A rainbow of vibrant colours set on a backdrop of a beautiful neutral colours. It didn't disappoint. I ordered all the bolts and the matching threads and got sewing as soon as they arrived!  Check out how beautiful they looked on the stand at Malvern Quilts UK.  So the bolts have arrived and I am hoping for more stock so that I can make the quilt kit that you see in the photo, fingers crossed! The Everglow animals are still in stock...
---
• bundles • perfect partners • solids
Two new perfect partner bundles are available!  Shopping online can be so hard to judge colours. With so many solids out there, where do you start? Perfect Partners was my way of offering a selection of solids that I knew would coordinate with the designers I stock. As a quilter I know not every project needs metres of solids. Sometimes its just pops of colour we need. So my perfect partners starts with fat eighths bundles. Then you can have the range of colour without the huge investment. The first of my bundles coordinates with Anna Maria Horner. I was inspired...
---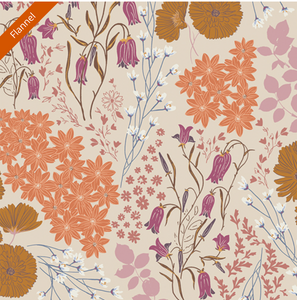 As the UK was hit with a blast of colder weather, I reached for the softest snuggliest fabric I could find. Two new bolts of Art Gallery Fabrics have arrived and they are the softest flannel ever! Many of you will remember at recent shows I have been encouraging you to hug my bear cushion and the "oooooh" that came from you all I wish I could have recorded. A testament to just how soft this flannel really is. These new too bolts are even softer - they're DOUBLE brushed cotton. I didn't know there was such a thing, but there...