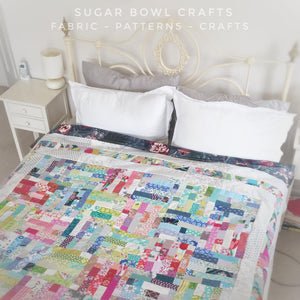 Sugar Bowl Crafts
Scrappy Time Quilt Pattern by Mel Lewis
Regular price
£5.00
£0.00
Unit price
per
Mel says, "This quilt has a sense of the past. I remember the scrappy quilts that Grandma used to make. They were full of colour from every pattern and colour imaginable. I've colour blocked into 3 groups to create a modern fresh feel but still with a nod to scrappy quilts of the past.
Great to use all your scraps!
This pattern is very adaptable to create a range of sizes. My suggested size is 

You will need:
* large amount of scraps
* neutral background fabric for the border
* backing
* fabric for the binding
* cotton wadding (batting)

This item is a printed paper pattern with full colour photos and step by step instructions. As with all of our designs, this pattern uses traditional piecing methods with step by step instruction provided. It is assumed that you will be using a sewing machine for piecing.
Outside the UK?
This pattern is also available as a PDF downloadable patterning my Sugarbowlcrafts Etsy store.
 
This pattern is not intended for commercial use. Please do not reprint or copy.
---