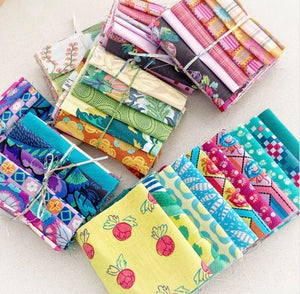 Sugar Bowl Crafts
Scrap pack Monthly subscription
Regular price
£7.00
£0.00
Unit price
per
This set includes:

1 scrap pack every month for 6 months. (6 packs in total)
Each Scrap pack has 9 individual strips that measure approximately 4" x 20"
wrapped in tissue paper.
All 100% quilters weight cotton (from a range of top brands & designers that we stock, such as Freespirit, Moda and Windham.
Run over 6 months you will be billed per month (an invoice will appear on the first of every month, once paid the pack will be sent).
Your subscription will start as soon as you purchase the subscription. BUT, if you wish to delay first delivery, please contact me to discuss. 
Notes: By purchasing this subscription you are agreeing to 6 separate payments. If you wish to cancel, you must give 30 days notice to avoid fabric being cut for the packs. Once an invoice has been sent, you are responsible for that payment. Invoices will be sent out on the first of every month with the exception of the first payment made via this website. Once purchased on the website you have agreed to these terms and given permission for invoices to be sent via PayPal. (We use PayPal to manage our invoices). Paypal will give you options to pay via card or Paypal. 
UK residents: The first payment is when you purchase this item (£7 plus postage) and then 5 more payments on the first of every month (£9).Your total after 6 months would be £55.
Non UK residents: Your first payment when you purchase this item would be £7 plus postage. Then 5 more payments of £9 plus postage. Please message us for a quote on postage before purchasing. This does not include customs or postage charges that may be charged within your country. email: info@sugarbowlcrafts.com
---